Retail is one of the most popular businesses that has been around for ages. Shop owners source products from distributors and sell them for a profit margin. Basically, what they are doing is retail arbitrage. The same product is priced differently depending on the location and how adept the store managers are in getting the product sold at a higher price.
Why You Need an Amazon FBA Software Tool- Benefits?
Any Amazon business should have proper research backing! Otherwise, it will become very difficult to set up a successful FBA business in the long run. Amazon FBA software is an essential part of it. It helps you understand various aspects of the business. 
Amazon FBA arbitrage tools are instrumental in finding the best deals and sites from where you can source products online. Also, they have seller trust and metrics that help you determine the genuinity of the sellers.
An Amazon FBA arbitrage tool can save your time and complexity when doing product research.
FBA tools provide you a landscape of what is performing in the Amazon marketplace and what is going out of trend. It provides data that can be helpful to explore new opportunities.
7+ Best Amazon FBA Software for Sellers: 2022
Here is a list of the best Amazon FBA software tools that sellers like you should be using to kickstart their Amazon FBA business.
1. BuyBotPro: Best Amazon FBA Arbitrage Tool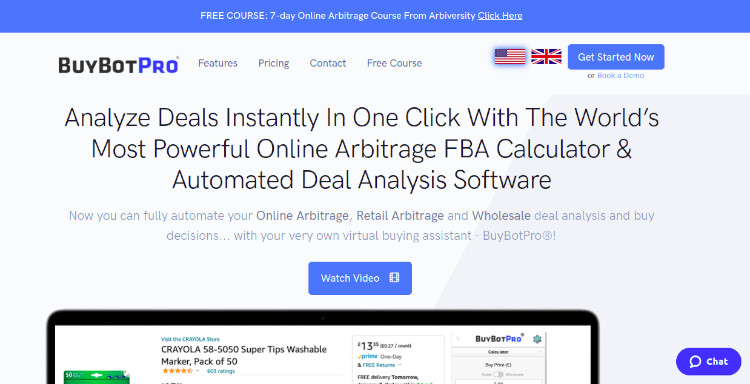 BuyBotPro helps you automate your online arbitrage, retail arbitrage, and wholesale deal analysis and buy decisions. It automatically checks your Amazon online arbitrage deals for you and saves you time. With just a click, you get a fully automated analysis of all the features that the platform offers. It is one of the best deal analysis calculators often required for success with Amazon arbitrage. Sourcing products for your Amazon FBA arbitrage is certainly going to get easy if you start using BuyBotPro. Yes, they do offer a money-back guarantee too!
Features:
Sales Analyzer: Analyzes historical prices, so you can see how fast the items sell.
Sales History Analyzer: Calculates your ROI and profit for you and includes costs that other calculators ignore.
ROI and Profit Calculator: Tells you exactly how many sellers there are on the listing, including FBA sellers, MF sellers, and Amazon, their stock levels, their review account, and even how much of that is positive.
Oversize Alerter: Helps find out at a glance whether the product is likely to be oversized or heavy.
Pricing: The desktop and mobile plan without suspension safeguard would cost you $35.95 per month. The desktop and mobile plan with suspension safeguard will cost you $49.95 per month.
2. Zonbase: Best Amazon FBA Arbitrage Software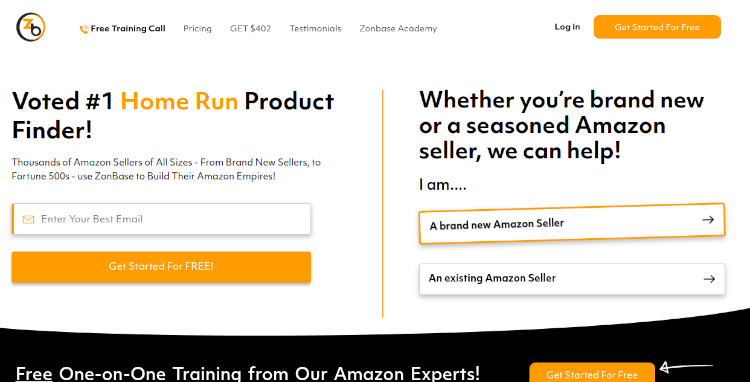 Zonbase is the one-stop shop for the tools and resources Amazon sellers need to automate processes, make data-driven decisions, and grow profitable. It has something for everyone, irrespective of whether you are a new Amazon seller or a veteran in the field. It has all the tools to help you succeed in your Amazon FBA arbitrage business. You can get started right away for Free and later opt for the Standard or Legendary plan.
Features:
Trending Products: Check out trending products every day and discover the hottest products on Amazon.
Chrome Extension: offers the most powerful chrome extension powering your product research – the largest database, and most accurate data.
Keyword Generator: Helps improve your visibility, drive traffic to your listings, and get to page one with high-performing keywords.
Listing optimization: Listify fills up a field with all your relevant keywords, strikes out the keywords you have used, and shows you in what fields the keywords have been included, ensuring you don't miss any keywords.
Profit Dashboard: Helps monitor the financial performance of your product listings so you can make data-driven decisions that will reduce your costs and boost your profits.
Pricing: Their Standard plan will cost you $37 per month. Their Legendary plan will cost you $67 per month.
3. Tactical Arbitrage: Best Amazon FBA Arbitrage Tool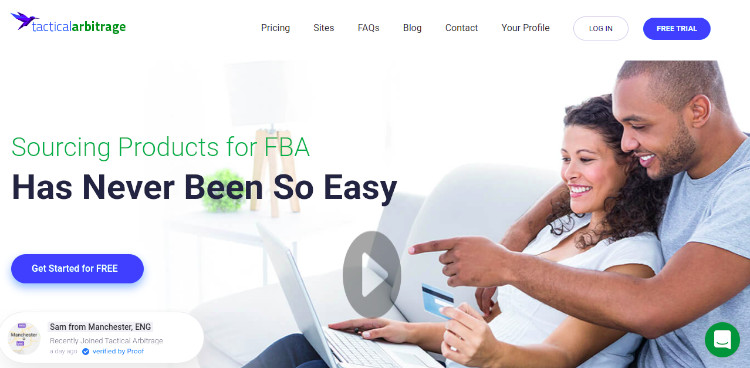 Tactical arbitrage provides Amazon and FBA sellers with all the necessary tools to scout products from various websites across the globe. Sourcing products for FBA is one of the most difficult tasks to manage an FBA business and 'Tactical Arbitrage' can save hours of research and planning by automating the entire process. Tactical Arbitrage is one of the most used FBA tools for Amazon, retail, and wholesale arbitrage across many geographies.
Features:
Product Sourcing for Amazon: FBA Easy to access metrics on dozens of data points in both Advanced and Basic View options, will help you make buying decisions easily.
Dynamic Data Analysis: Tactical Arbitrage provides historical Buy Box price, and sales rank data in an interactive graph, alongside products that sell to help you to buy confidently, and stay ahead of the curve.
Your Tactical Edge: Analyze arbitrage opportunities for extra data, such as stock levels of competition, and other matching product listings found on the Amazon FBA platform.
Sourcing Sites Sell on Amazon almost anywhere: From the USA to the UK, Europe, and more. For our Online Arbitrage module, here are just a few of the websites we can analyze for you. With our Advanced User feature, you can in many cases even add your own sites to search!
Pricing: Tactical arbitrage has 5 pricing options for online arbitrage sellers and wholesellers.
Flip Pack: The plan offers amazon flips, library search, and view inventory. It is priced at $50 per month when billed annually.
Wholesale: The plan offers wholesale and view inventory options. It is priced at $55 per month when billed annually.
Online Arbitrage: The plan offers product search, reverse search, and always scanning and view inventory. It is priced at $70 per month when billed annually.
Online Arbitrage+Wholesale: The plan offers product search, reverse search, always be scanning, wholesale, and view inventory. It is priced at $85 per month when billed annually.
Full Suite: The plan offers product search, reverse search, amazon flips, library search, always be scanning, wholesale, and view inventory. It is priced at $95 per month when billed annually.
4. Aliinspector: Best FBA Arbitrage Software Tool
Known to be the most powerful AliExpress research software, Ali Inspector is loaded with features to instantly uncover hidden trends, golden niches, and best-selling products with practically zero competition. It helps you generate niche keywords, analyzes bestsellers, and uncovers top-performing dropship products. It comes with a 30-day money-back guarantee and is one of the best FBA arbitrage tools to source products or even run your own dropshipping business.
Features:
Keyword Generator Tool: Instantly generate thousands of highly targeted niche keywords in just seconds.
Best Sellers Tool: Analyze all the best sellers on AliExpress in over 380 categories to instantly uncover the top-selling products.
Product Search Tool: Quickly search AliExpress for any keyword using powerful search options to see the exact top-selling products.
Product Sales Data: Instantly get all the sales for the most recent 14 days for absolutely any product on AliExpress.
Product Link Scrapper: Insert any content that contains AliExpress product links and Ali Inspector will pull back the data for all found products.
Pricing: Aliinspector has only a one-time fee and you will never be charged a subscription or recurring fee. Your purchase includes lifetime access to your software. The one-time fee is $67 only and you will get the commercial license, outsource license, and Ali Inspector 2.
5. Zen Arbitrage: Best Amazon FBA Arbitrage Tool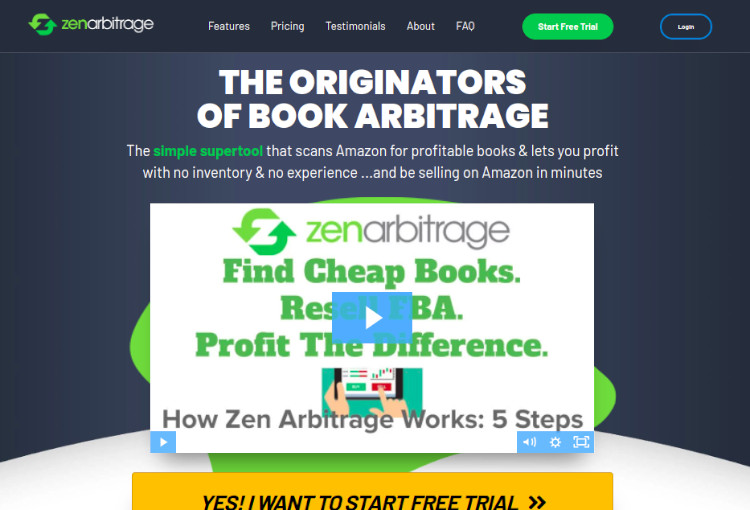 The super tool, Zen Arbitrage scans for Amazon for profitable books and shows you profit with no inventory and experience. Zen Arbitrage scans Amazon for the opportunity and helps you relist cheap books at a higher FBA price. They provide real-time Amazon data that is accurate-to-the-minute FBA prices. You get a full suite of profit-boosting tools like on-demand historical sales charts, filters for fast-selling books, trade-in arbitrage, and more.
Features:
Real-time data: Accurate, to-the-minute FBA prices.
Full suite of profit-boosting tools: On-demand historical sales charts, filter for fast-selling books, trade-in arbitrage, and more.
Multiple profit streams: One software, multiple businesses.
Pre-sorted lists of profitable books: Skip searching altogether.
Built-in profit tracking: Track all sales and profits with their built-in tool.
Price Drop Alerts: You get emails as soon as the price drops below the price you set.
Pricing: They offer two pricing plans:
The Zen Arbitrage plan will cost you $97 per month and includes all their available features.
The Zen Arbitrage and Zen Trade plan will cost you $125 per month and it includes all features available for Zen Arbitrage and Zen Trade, the private community where you can trade books and leads.
6. Source Mogul: Best Amazon FBA Arbitrage Tool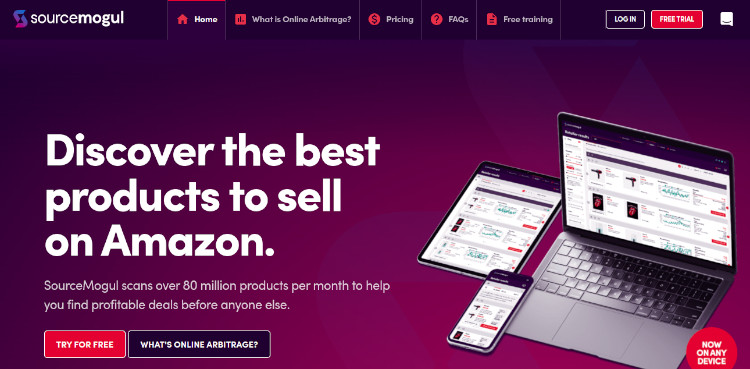 SourceMogul scans over 80 million products per month to help you find profitable deals before anyone else. It helps you find cheap products that can be sold for more money on Amazon. SourceMogul simplifies this process by finding deals before anyone else so that you can stay ahead of the competition and grow your business faster. Since product sourcing is one of the most challenging part of FBA; Source Mogul is definitely the tool you must be looing at.
Features:
Speed: Scan millions of products and identify profitable opportunities.
Advantage: Stay ahead of the competition and find deals before they sell out.
Insight: Real-time analysis of Amazon sales performance and sales rank.
Simplicity: An intuitive and easy-to-use user interface makes sourcing simple.
Quick Analysis: Intuitive and easy-to-use filters help to find the best products for you.
Pricing: Their plan offers Search by supplier/retailer, Amazon category search, wholesale list upload, and search, create wishlists for further analysis, fully responsive mobile version, stock availability search, and powerful filtering and profit analysis at $97 per month or $1074 yearly.
7. Helium 10: Best Amazon FBA Arbitrage Software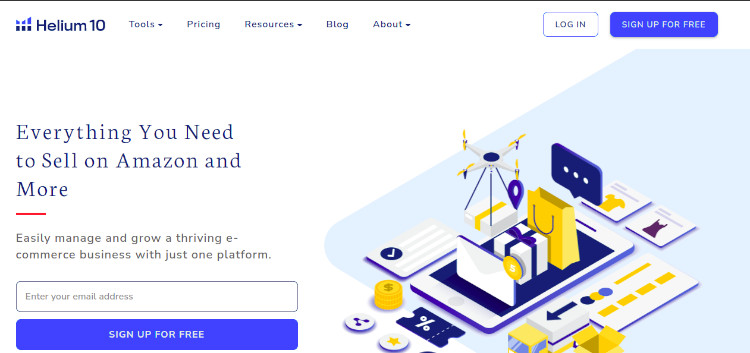 Helium 10 helps you easily manage and grow a thriving e-commerce business with just one platform. It is one of the industry's first all-in-one software for Amazon. It has the largest dataset of products and keywords. You can use it for a variety of things including keyword research, keyword tracking, product research, and more. Helium10 does have a robust list of features making it one of the most sort after free FBA arbitrage software tools to get started.
Features:
Product Research: Easily find a product with their database, and quickly validate its success with at-a-glance analytics like seasonal trends, profit estimates, and more.
Keyword Research: With multiple keyword search options, like single-word and reverse searches, source everything from backend keywords to low-competition phrases, and more.
Write Listings: Leads you through the listing creation process so you write stellar, high-ranking listings every time.
Easily Manage Business: With alerts, updates, and non-stop monitoring you know what's happening with your products, seller account, and markets.
Pricing: You have to pay $29 per month for their Stater plan. You have to pay $84 per month for the Platinum plan. You have to pay $209 per month for their Diamond plan.
Roundup: The Bottom Line
Since most of these tools offer free trials and a no question asked money-back guarantee, I suggest you start using them and stick to the ones that are making sense to your business. Within a quarter, you should be able to understand how these products are helping you with increased sales, streamlined operations, and an overall boost in earnings. Hope this ist of the FBA arbitrage tool is helpful.